I've been gone so long, it feels like I died and was reborn as someone else... someone with the longest, strongest stomach flu anyone has ever survived. In other words, I'm pregnant.
~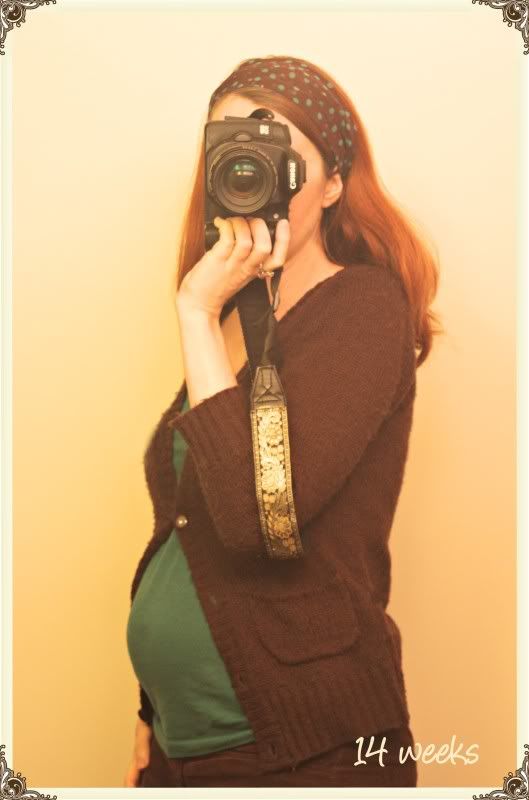 I'm not going to spend a bunch of time trying to describe what the last 8 weeks (that's right, TWO MONTHS) of constant, all-day nausea was like because there are no words that could. Imagine walking around with someone's finger down your throat all day. It's kinda like that. In the last two months, I have left my couch and ventured out of the house only three times. You can imagine how many hours of HGTV that represents, and I think in the future if I see anyone trying to stage a home for a quick flip I might have an instant gag reflex from the association. I will also never be able to look at another Ritz cracker again.
As I type this, I am 14 weeks pregnant with my second baby and still have morning sickness. Which must have been named by a man because a woman WOULD HAVE KNOWN BETTER. It lasts all day. The only highlight of my day was being able to make a thick black "X" in Sharpie pen across the day I had just defeated on the calender... the only thing that made me feel somewhat accomplished. Today I seem to be getting slightly better, which is a relief because I was beginning to doubt that I'm growing a baby in my body at all but some wildly dangerous strain of the flu. What a horribly disappointing ultrasound that would be.
~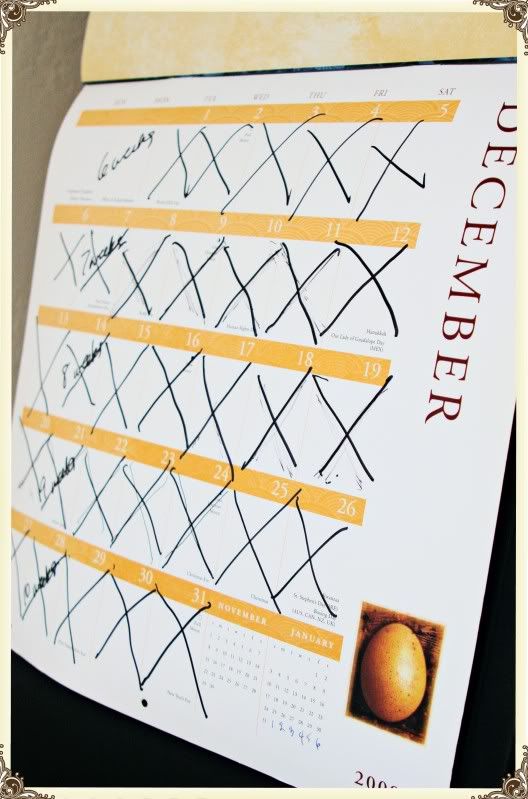 I feel incredibly blessed to have this opportunity to be pregnant with another tiny person. I have a few friends who are having trouble conceiving and I realize that my morning sickness is nothing compared to the frustration and heartache that surely causes. Every day I feel lucky to have gotten pregnant when I wanted to and that I've had no serious complications so far. That being said, this will be the last Buchele I make. I just can't go through this again. And if you ever hear me say that I'm tossing around the idea of having a third, please direct me to this blog entry ASAP.
So here's the amazing part. As it turns out, I live with the two best guys EVER. I knew this before, but the last couple of months have really proven it to me. Rhys has done more cooking, cleaning, diaper-changing and random-food-fetching that any one person should ever have to do and he hasn't missed a beat. On top of it, he has maintained a steady level of sympathy and support and love for cranky little me the entire time. I should mention that I've perfected the ultra-ratty hairstyle of Hermione circa early Harry Potter. And he seems to love me even more these days, despite the rats nest hairdo and the lazy outfits. I guess making internal organs of an offspring scores major points.


And my Jude, oh my little Jude. I'm amazed by this person every day, who seems to have caught onto the idea that mama isn't feeling her best, and has really been compassionate. He has been content just snuggling under a cozy blanket on the couch, watching home make-over shows and TLC all day. His favorite is Cake Boss, and oh my word, when there was an episode in which Sesame Street ordered their 40th anniversary cake from the Cake Boss it was the best day of Jude's life. I've been so lucky to have a toddler with his sensitive personality during this trying time of illness. It saved me. He even started asking to "Watch Ellen dance?" and "Where's a cake man?" I watched my share of Blues Clues too, so it all evened out. And no, we don't normally watch this much television. But I figured I'm in "survival mode" right now and 2 months of TV isn't going to ruin my toddler. I hope.
~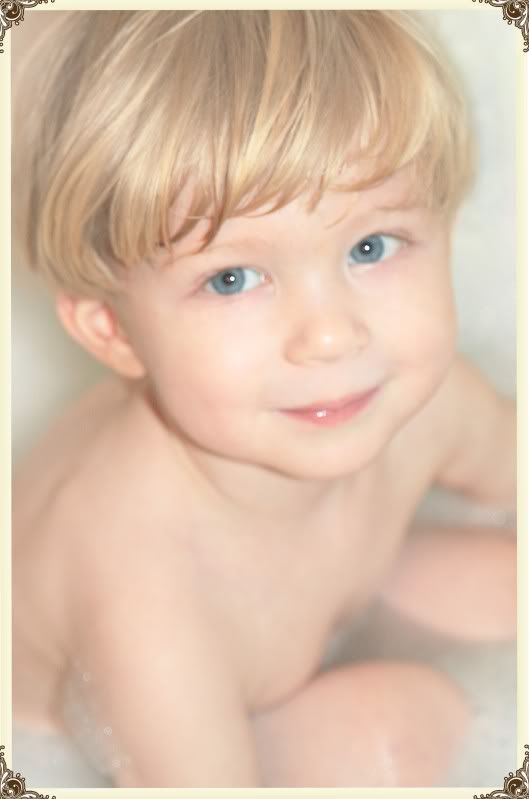 This new baby I'm baking appears to be quite a food connoisseur. I have craved nothing but gourmet meals from the start and watching Iron Chef really does us both in. If only I could have a personal chef here at the house, making me seared ahi (not like I could eat it anyway with those mercury levels, but whatever), caprese salads, delicately glazed lamb chops and risotto... I'd be huge right now. So I guess it's a good thing I don't have a personal chef living here.


Here's our latest precious moment: I told Rhys the other day that I'd been craving strawberry cupcakes with strawberry frosting (PINK!!?). So guess what our grocery list for tomorrow includes? That's right, he wrote on his own: strawberry cupcakes, strawberry frosting, SPRINKLES (this was his own doing, I did not specify sprinkles) and cupcake cups. I cried when I saw these delicate feminine ingredients written in my husband's writing. He's gonna make me cupcakes. It's the sweetest thing of all time.
~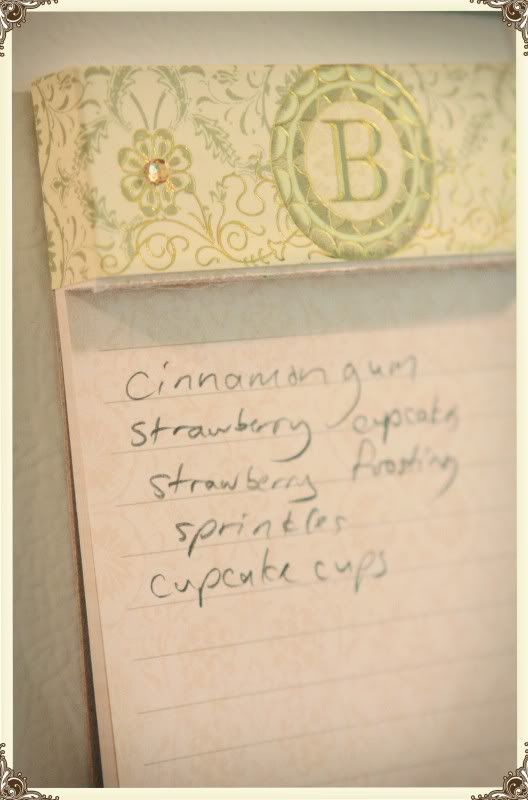 I'm a crazily lucky girl.